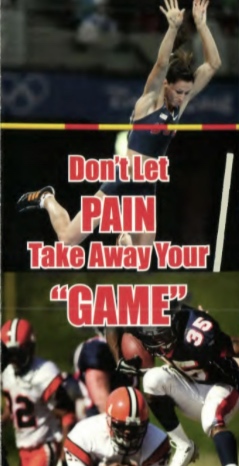 "I  was  introduced  to  the  PEMF  after  suffering  a dislocated shoulder during a snowboarding accident. After only one treatment I noticed incredible results with my pain level as well as my range of motion. I was so impressed with this I introduced it to my wife who used it on her jaw with great results. Since then we have not only used it on ourselves, our friends and family members, but have a/so used it on our horses with amazing results. During the 2007 PBR season my good friend Justin McBride suffered a devastating injury to his shoulder and was told his season was over. I brought the machine to him to try and within a month he  was back riding his way to another PBR World Championship."
"34 years old is ancient for a professional bull rider. I've broken almost every bone in my body. After a major leg fracture last summer (2008) and getting hauled off on a stretcher, I planned on calling it quits. But after using PEMF, my daily aches and pains have gone away. I feel better than I ever have. I am in the best shape of my life. I plan on competing one more season, and then walking away on my own terms!"
"PEMF Therapy helped with my recent groin
injury.
After just two treatments
,
the pain and swelling were gone
,
and I
was
able to move freely
.
This thing
really
works!"
"I
had
a
real
sore
heel. After one treatment
I
said, What did you do? My heel never felt this good!
"
I noticed
a
major differen
ce
the next moment after
treatment
.
This 
Thumper
is Fantastic."
"I've had this lower back pain for five years; it was gone after nine minutes. This is truly amazing."
"I am a former professional motocross racer. Five years ago an accident forced my femur to crush the lower half of my knee called the tibial plateau, fractu­ring it in multiple places. After six surgeries and 3 years I have been in constant pain. After 2 treatments I am now pain FREE. I highly recommend anyone with any type of ailment use this machine."
"I
was introduced to the PEMF by
a
good friend. Being a competitive athlete I thought lets give it
a
try. After my first time I was really impressed with how loose 
and pain free it made me feel. I immediately told my coaches about
it
and
set a
time for it to be introduced to  the coaches and fellow 
athletes
.
Everyone was 
impressed and it has
become
a
regular therapeutic 
modality. I would recommend the PEMF to all athletes and everyone who suffers from pain and range of motion problems
.
"I've
had pain
on my left calf for 15 months
.
I
've
seen
three doctors
with NO relief. After six minutes my calf
pain was
gone. WOW this really works!
"
"For  the past 15 years not a day has passed without terrible back pain. After a 20 minute treatment I felt so good that I went and played a round of golf. "
"I had a bone density test done because results showed that I was at HIGH risk for bone fractures. My spine is Osteoporotic and my hips are Osteopenic which is the stage before Osteoporosis. Five months later I had an­other bone density test and the results were amazing. With no pharmaceutical drugs and doing nothing different other than applying PEMF Therapy every other day, I increased my bone density mass 20% in my spine and 4% in my hips! I Love PEMF therapy."
"This thing (PEMF)
is
really good for my shoulder and hamstring. It
also
helped my after-game
soreness.
When it
goes
right to the pain, I know it
is
working
."
"This is perhaps the
most
phenomenal device I have ever seen. Prior to competition it loosens up our athletes so they are able to  compete better by 
increasing their range of 
motion and reducing their pain and stiffness
.
After competition it assists
in
speeding up their recovery 
time so they are not stiff and
sore. 
They bounce back refreshed and ready to go. For those that do suffer any type of pain and stiffness
,
this device is remarkable 
how it rids our athletes of their pain and stiffness and prepares them to compete again. I highly recommend 
that this PEMF device be 
a
part of every athletic 
program
".
"My neck and back have hurt for so long, 8-9 on a scale of 1-10. After six minutes it was reduced to a 1-2."
"For nine years, I have not been able to move my leg into a cross legged pr»ition. After a few sessions on the PEMF machine I can now sit comfortably this way with NO knee pain."
"My body has plenty of wear and tear from old boxing injuries. PEMF Therapy really helped the pain in my shoulder and fists. It made my body feel a whole lot better. I plan to continue using the device on myself and on all of my boxers as well."