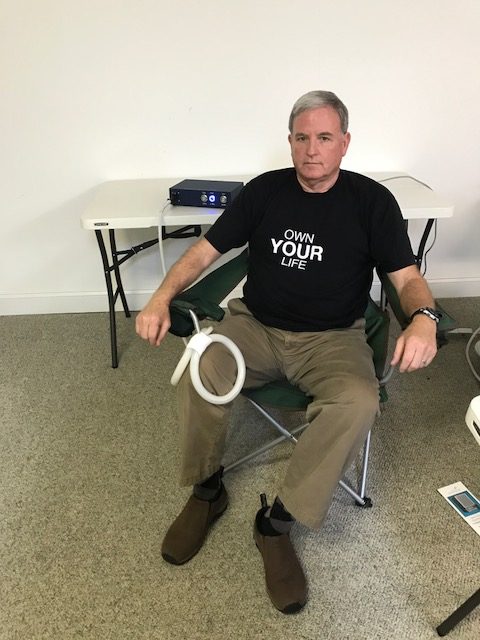 PEMF Therapy pulses a magnetic field into the. body, creating an extraordinary healing effect. The results are less pain, reduction in swelling, and increased range of motion in the affected areas. PEMF Therapy is already approved by the FDA to promote the healing of non-healing bone unions and has been used in Europe for over 20 years in over 400,000 sessions with individuals experiencing migraines, sports injuries and other pain syndromes.
PEMF produces magnetic fields approximately 10,000 times more powerful than a standard magnet. The treatments are completely safe with absolutely no side effects. Even after years of chronic discomfort, positive results are seen after a few treatments. Pulsed Magnetic Therapy has undergone clinical trials worldwide, and is used by physicians and holistic health practitioners throughout the world creating a dramatic improvement in patients quality of life.
PEMF:
• Regenerates damaged and diseased tissue, repairs torn tendons and fractured bones.
• Enhances the synthesis of protein in the cells, allowing the body to take advantage of all the protein available.
• Improves circulation, not by increasing heartbeat or blood pressure, but by opening and dilating the arteries and capillaries. This also reduces edema (swelling).
• Increases the cellular level of oxygen absorption by up to 200%. This reduces pain associated with lack of sufficient oxygen.
The Pulse:
• Improves circulation
• Increases oxygen levels
• Energizes the cells
• Electroporation "opens" cells allowing for detoxification
• Relieves pain
• Reduces swelling
• Restores membrane potential
• Improves cell hydration
• Reduces inflammation
Pain associated with soft tissue injuries:
• Back pain and spinal conditions
• Cervical neck pain
• Carpal Tunnel Syndrome
• Myofascical trigger points
• Epicondylitis (tennis elbow)
• Sprains, strains
• Repetitive strain injuries
• Tendinopathies
• Plantar fasciitis
The Pulse helps to:
• Relive pain
• Reduce inflammation
• Reduce stress
• Increase energy
• Increase circulation
• Increase healing
• Increase detox
Advanced cellular exercise
• Completely safe – NO side-effects
• Pulsed magnetic fields produce magnetic fields thousands of times
• More powerful than standard magnetics
• Positive results are seen after just a few sessions
• Pulses sent through the body create an extraordinary effect
• Improve the quality of your life!